Welcome to Diva Interiors
Jeannie Brown, a highly respected, residential interior designer is passionate about creating homes for her clients. "Interior Design is about creating a unique quality of life and beauty that nourishes the soul. This is the place we call home."
Not only has she created outstanding homes for her clients but in the process, she has been the four-time winner of the coveted ASID Design Excellence Award. Her interiors often include the use of Casa Marrón furniture, a line of furniture she has been designing and fabricating over the years for her clients that adds special meaning to each project.
No two Diva interiors are the same; they are as individual as the people living there, reflective of their tastes and needs—the place called home. We look forward to creating your new home.
Intuition, Integrity, Individuality
Diva specializes in custom residential interior design projects:
Custom homes
Remodels
Existing homes
A full range of design services
Selecting interior finishes
Drawing interior plans
Providing complete interior specification packages
Providing furnishings, window coverings and art and accessories
A new design esthetic for Santa Fe style: contemporary architecture, high ceilings, lots of light and rooms with openness and volume. This home seeks to find a unique balance between contemporary and rustic design language through the use of modern and primitive elements. Old reclaimed beams and doors live side-by-side honed stone countertops and shiny, polished chrome fixtures.
Hand planked wood floors and hand trawled plaster walls create rooms for hand carved Casa Marrón furniture and contemporary art. The ever-changing rich landscape colors of Santa Fe inspired the color palette, uniting inside and out and creating serenity in the spaces.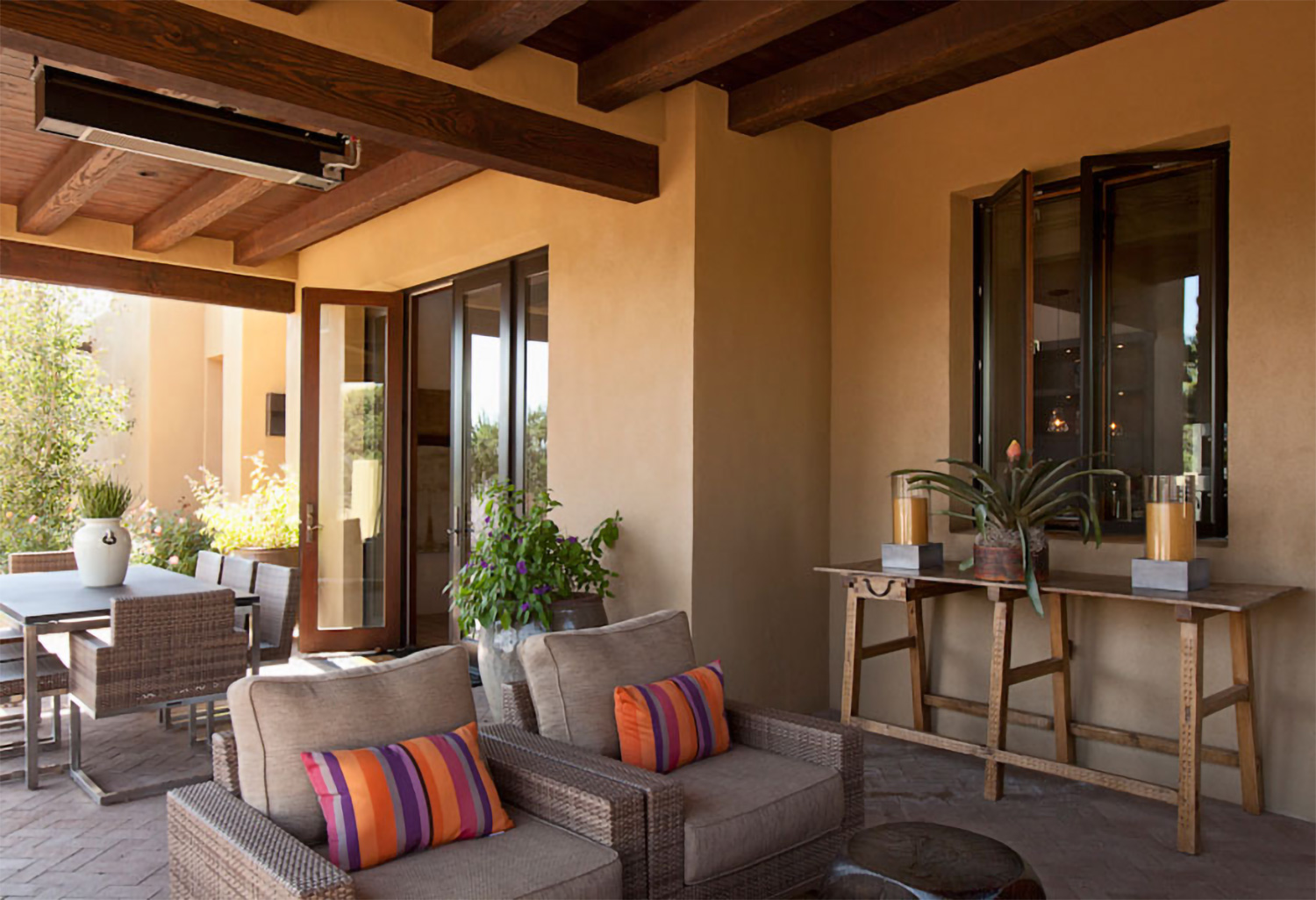 Painted Horse
Santa Fe Style
This home in Las Campanas, built in the late 90's, was a major remodel for Diva Interior Design and took more than two years to complete. The home was given a fresh, new look with new sandstone and custom wood flooring through-out the house. All of the baths were remodeled with new tile, stone and plumbing fixtures. The master bath was transformed into a luxury spa and the master closet was expanded to meet the needs of the new owners, with built cabinets for specific storage needs. Cabinets were refinished, walls were re-plastered and painted and all the lighting was redone. After completing the remodeling, Diva designed and furnished the entire house, working with the clients to design a very personalized aesthetic to blend their extensive collection of art and artifacts collected over a lifetime of travel and living in all parts of Europe and Russia. Custom pieces were designed using carving details from Nicolai Fetchin, the Russian artist and carver that lived in Taos and had a great impact on New Mexico style.
Client comments
When we bought our Santa Fe home, we realized two things: the house was overdue for a serious update and we needed to replace our East Coast and European furniture. The thought of undertaking so much change was paralyzing. Thankfully we were introduced to Jeannie Brown of Diva Interior Design.
Jeannie met with us in our home many times, listening to our frustration and aspirations. The first order of business was renovation and we can honestly say that together we have changed every surface: walls, ceilings, light fixtures and floors. We updated all bathrooms, moved a few walls to create better use of space and added decorative details to draw attention to our home's unique, intrinsic features. Throughout the process, Jeannie was attentive to our ideas, taste and desires, but she also nudged us to consider new ideas. We are delighted with the results! The house now meets our needs and is truly our dream home.
Next came furniture, lamps and window treatments. Jeannie knew we had a few "sacred cows" that needed to be incorporated in the new plan so she carefully designed furniture compatible with our treasures. She drew furniture plans for each room and then presented furniture, lamps and fabric selections for our consideration. The process included lots of discussions and decisions. The new furniture from her Casa Marrón furniture line is simply superb: beautifully crafted with outstanding details yet totally functional. We are utterly thrilled with the results.
Thanks to Jeannie's patience, attention to our tastes and concerns as well as her consummate sense of scale, general design and attention to detail, we have a beautiful home that exceeds our expectations.
Gwenn and Eivind Djupedal
Rancho Valencia
Southwest Contemporary Style
Working with the architect and owners in the early design stage and continuing until the last piece of art was hung, the design challenge was to create an interior with clean, contemporary lines within this very distinct Southwest architectural style. The background is kept fairly neutral and detailing is simplistic. Furnishings are an interesting mix of clean contemporary pieces with rich, rustic finishes, together with well-placed character pieces. Texture, color and natural materials add flavor with art and accessories adding personality.
Client comments
A wonderful collaboration is the phrase that sums up our experience working with Jeannie Brown. We relied on her experience, expertise and creativity in working with the architect and builder from the very beginning of the project. Our request to her that we wanted a home and furnishings with a serene, contemporary look paired with traditional Southwest architectural style, became a reality.
The design challenge in this new house was to create a sense of history in the architectural details and finishes. This was accomplished by using materials, details and finishes that looked and felt like they were original to the house. The flooring in the main part of the house is reclaimed, antique terracotta pavers. All the walls are a smooth finish with a variety of hues of lime wash applied to create a very natural, plaster, rich patina.
Custom designed Casa Marrón furniture creates a unique, eclectic look: rustic, old world mixed with some contemporary, clean lined pieces. The rooms, color palette and furnishings allow the client's contemporary art collection to be a focal point, creating a comfortable, rich and inviting atmosphere.
This casita was transformed from basic "vanilla" to a warm, rich, casually elegant home that reflected the personality of the clients and the style of the architecture. Given a lack of natural light, the new color scheme became rich cream and golden nougat tones, uniting the rooms to make a small home feel spacious. The walls were retextured to a smooth finish and were painted in an environmentally friendly lime wash paint, adding softness to the rooms. The cabinets were refinished, changed from basic white to a painted, stained wood finish.
The scope of the project was comprehensive: remodeling and providing all new finishes, lighting, plumbing, furniture, window coverings, art work, accessories, plants, household items, kitchen ware, dishes, glassware, flatware, bedding, linens: a home ready to live in and to enjoy for years to come.